An Inside Look with Kelly from The Good Wear
I had the incredible opportunity to do an "interview swap" with my original ethical fashion inspiration- Kelly of The Good Wear! Read her interview below and read my Style Me Fair Interview on her blog as well!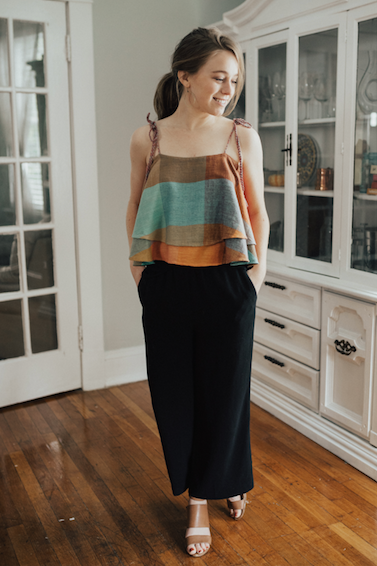 When I first had the idea to launch an ethical fashion blog, I searched for several inspiration accounts, and stumbled across Kelly's newly minted Instagram feed.
There were only a handful of photos, but the thoughtfulness behind each post was evident. Kelly's photos and the way she writes clearly dictate her passion for responsible fashion. I was so inspired by her account, I decided to reach out to Kelly via e-mail with a few questions (I'm not sure if she even remembers this!), and she kindly responded with encouragement and advice.
The Good Wear offers plenty of helpful resources for ethical fashion including tips and tricks on shopping responsibly, brand spotlights, and a large ethical fashion brand directory!
What made you want to start your blog?

I studied Fashion Merchandising in college and have always been passionate about the fashion industry. I participated in a project my last year in school that focused on Fair Trade brands and from then on, I knew I wanted to be involved with conscious companies empowering and making change for people around the world. But it took a few unfulfilling jobs and some time to fully commit and develop an idea for the blog. After several months of planning and minor procrastinating, The Good Wear was launched in April of 2017. I wanted this platform to be a place to hold conversations about the ethical fashion industry and share the amazing brands + style out there - because so many people still don't know it exists!
Was it hard to "make the switch" from fast to slow fashion?
I procrastinated the initial commitment to only shopping slow fashion, but once I started, it came fairly easy. Before last year, I had always been one to shop brands like The Loft or JCrew, - it was more of a convenience, quick trends and financial factor that kept me coming back to that habit. But in January of last year, I fully committed to only shopping slow fashion brands and it's been fairly simple - partly because I'm passionate about it and because I'm immersed in the ethical fashion industry. Overall, the switch came down to my personal conviction that I can't justify my purchases of fast fashion brands when I know they are hurting the individuals who are making my clothes.
Who inspires you the most when it comes to ethical/responsible fashion?
Fashion Revolution! I'm constantly inspired by their research, graphics, and educational tools. I've learned so much from this organization and am constantly inspired by the dedication and value they put in the ethical fashion industry. On the style side, I'm inspired by Everlane. I love that their transparency, style, visuals and customer relationships are so influential in reaching a large audience to shop responsibly!
What is your favorite value you get to share with your platform?
Sometimes it's easy for me to think, "does this blog even matter?" so it's one of my favorite things to experience comments like, "I had no idea this was happening in fashion" or "this makes me think twice when I'm out shopping". So, my favorite value with The Good Wear is sharing educational content to spur on these questions and convictions ; and then providing in response with simple tips, facts, and brand recommendations that can help us be better consumers.
Who is your favorite ethical/sustainable fashion brand?
There are SO many amazing brands out there! I love artisan made clothing and goods - it's inspiring to hear the stories of sustainable impact that can come from purchasing their products. 31 Bits was one of the first brands I was plugged in with, but some other artisan based companies I admire are Raven + Lily, Nisolo, The Little Market, and Purpose Jewelry.
What is your favorite part of the ethical + sustainable fashion movement?
The camaraderie to support one another as well as the willingness to challenge information, marketing, trends, and companies for the better - really anything to do with the fashion industry. It's inspiring to see the creative work that is being produced to solve this global issue all while being able to be creative, practical, transparent and fun.
What advice would you give to a first-time ethical shopper?
Commit to one step at a time! It's hard to change all consumer habits at once, so it only makes sense to slowly ease into shopping ethically. My advice would be to determine what area of ethical/sustainable fashion you're most passionate about - do you want to shop more second hand? Do you want to shop ethical for just leisure wear first, then work wear? Do you want to try to wear what you own before making new purchases? These are all steps into being a responsible consumer - but my encouragement through your process is to stay curious and keep challenging yourself!
What's your favorite quote regarding ethical fashion?
Anything by Emma Watson - she's my sustainable style muse! I currently love this one : "I don't think it should be niche that the companies we wear clothes from are caring about who works for them or being conscious about the environment." Such truth!
Give her a follow!
If you enjoyed reading Kelly's thoughts as much as I did, give her a follow and subscribe to her blog! Also, feel free to head to my Style Me Fair Interview on her blog!